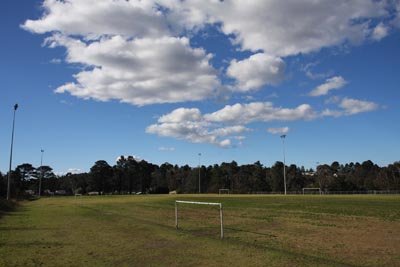 CONTACT US


Facebook : https://www.facebook.com/wentworthfalls.fc
Snail Mail : PO BOX 39, Wentworth Falls, NSW 2782
In Person : Pitt Park, Matcham Ave, Wentworth Falls (Game Days Only)
COMMITTEE MEMBERS
President : Bill Bouzianis
Vice President : Rebecca Harris
Treasurer : Peter Griffith
Equipment Manager : Vacant
Secretary : Marnelle Pilla
Member Protection Officer : Tim Bull
Competiton Secretary : Mal Clines
Registrar : Scott McLeod
WAY OF THE WARRIORS
From starting out playing social soccer since 1975, growing to affiliation as a club with the Nepean association in 1983, the club has steadily grown to an all year round operation by hosting both a Winter and Summer competition.
Our home ground, Pitt Park, went through a major overhaul in 2007 giving us a beautiful new playing surface boasting the largest size field on the mountain and lit by 100 lux floodlights for night games.
We are currently working with Council and various sporting bodies to raise funds to build a new shared clubhouse facility at Pitt Park.
We support and encourage all young people in the area by offering the opportunity to play the game of football from the youngest level to the highest level possible whilst maintaining our core values of Fun, Fitness, Fairplay and Friendship.